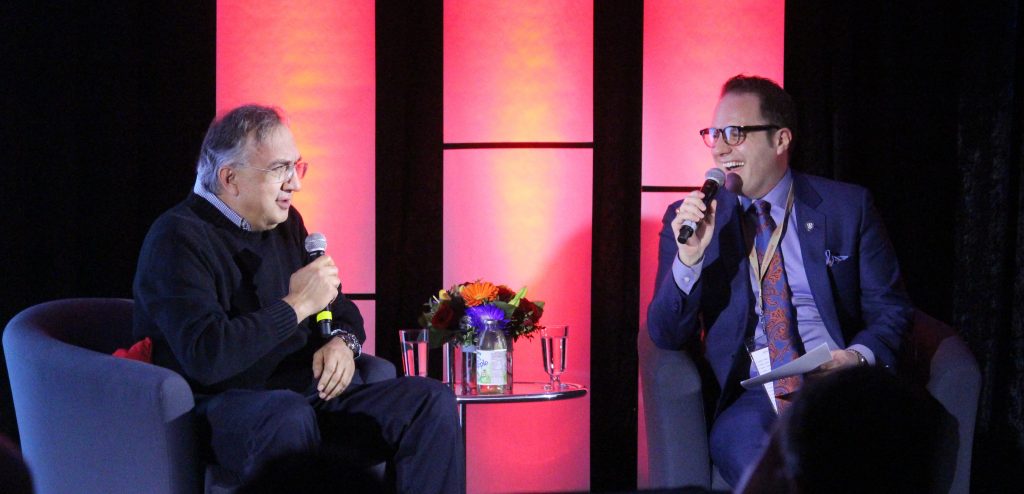 Recap of the Day
GOLS 2016 was the most successful iteration of the event yet! Industry professionals shared their inspirational stories to a packed house of students and business professionals. Lessons on everything from what it means to be a champion to how sometimes being a follower is just as difficult as leading ensured that there was something for everyone in the room to learn from and take away from the event.
The event featured talks from leaders of the auto industry, fashion industry, and even Olympic champions. It also was coupled with the very first GOLS app, which allowed users to ask the speakers questions in an interactive Q & A session. GOLS 2016 was a smashing success and a cornerstone for further growth of the conference and it's work.
Outstanding Speakers of 2016
Alex Maclean – East Coast Lifestyle
Ferio Pugliese – Executive V.P. Customer Care and Corporate Affairs – Hydro One Networks Inc.
Justine Fedak – Sr. VP Head of Brand, Advertising and Sponsorship – BMO Financial Group
Michael Rossi – President – Adidas Canada
Sergio Marchionne – CEO- Fiat Chrysler Automobiles NV
Thomas W. O'Brien – President and Founder – Coopers Hawk Vineyards
Marnie McBean O.C. – 3x Olympic Champion and Author
Thank you to our Sponsors!
Dr. Vincent Georgie and Trevor Georgie
Fiat Chrysler Automobiles
Enwin
Hydro One
Adidas Group
Windsor Essex Economic Development
BMO
Mike and Sarah Fisher
Douglas Marketing Group
Valiant
<licrestcom< li="">
ZF TRW
University of Windsor Alumni Association
BDO
</licrestcom<>